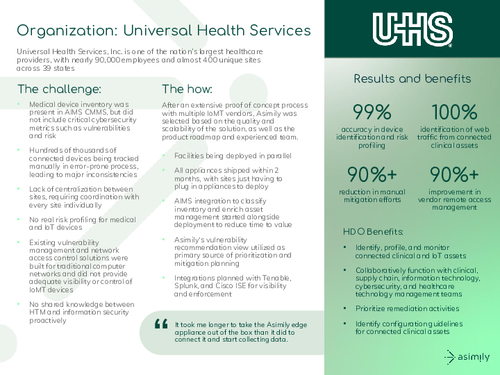 The challenge: Universal Health Services, Inc. is one of the nation's largest healthcare providers, with nearly 90,000 employees and almost 400 unique sites across 39 states. With hundreds of thousands of connected devices being tracked manually in error prone process, leading to major inconsistencies and lack of centralization between sites, requiring coordination with every site individually.
The how: After consulting with multiple IoMT vendors, Asimily was selected based on the quality and scalability of the solution, as well as the product roadmap and experienced team. The vulnerability recommendation view utilized as primary source of prioritization and mitigation planning with integrations planned with Tenable, Splunk, and Cisco ISE for visibility and enforcement.
Download now to find out how identification of web traffic from connected clinical assets improved 100% in vendor remote access management.