Welcome to CareersInfoSecurity
Home for the Latest Career News, Views and Education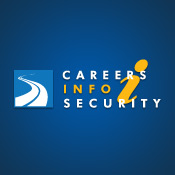 Information Security Media Group announces the launch of CareersInfoSecurity, a global media site for information security professionals and leaders looking to nurture their careers. This site is a one-stop shop for the latest news, insights, training and education on career strategies, skills and trends.

Subscribers to the previous Careers updates published by ISMG's BankInfoSecurity, GovInfoSecurity and HealthcareInfoSecurity sites now will receive the new Careers e-newsletter from CareersInfoSecurity.

Designed to meet the needs of information security professionals across all business sectors and geographic regions, CareersInfoSecurity debuts at a time when organizations increasingly focus on battling cybercrimes, protecting critical infrastructure and meeting regulatory requirements. There is a heightened need today for qualified information security professionals and leaders to be prepared for the future demands of this profession.

"The demand for qualified professionals will only grow exponentially, requiring professionals to develop new skills and effectively road map their careers to prevent being in a position of playing catch-up with emerging technologies," says Hord Tipton, executive director of (ISC)2, a global leader in educating and certifying information security professionals.

CareersInfoSecurity is a resource for career advancement, including the development of specific skills in areas such as privacy, audit, business continuity, forensics, application security and risk management. In addition, the site focuses on academic and certification programs, trends in the IT security profession and includes expert insights from top-notch educators and leaders in the industry. And coming soon: a job board for information security pros to search for that perfect new position.

Among the content debuting on the new site:

ISMG currently offers sites serving four vertical industries: HealthcareInfoSecurity for hospitals, clinics and other healthcare organizations; BankInfoSecurity for banking institutions; CUInfoSecurity exclusively for credit unions; and GovInfoSecurity for government agencies. Plus, the company recently launched BankInfoSecurity sites for Europe, the United Kingdom, Asia and India.

Concurrent with the launch of CareersInfoSecurity, ISMG also is launching two other new websites:
InfoRiskToday, a site for IT and non-IT executives, managers and professionals worldwide that focuses on information risk management, a process designed to protect an organization's information assets and business mission;
DataBreachToday, a multimedia website providing news, insights and education on data breach detection, notification and prevention globally.
The CareersInfoSecurity site is overseen by Upasana Gupta, contributing editor. Her background is in human resources specific to hiring and retaining top-level information security and IT talent. Over the last three years, she has spent specializing in career matters and emerging roles within the information security community.