Video: Lessons Learned from Breaches
Hord Tipton of (ISC)2 on What's Needed to Improve Defenses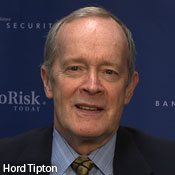 rsa2012_Hord_Tipton_640x360
As 2011 ended, Hord Tipton, executive director of (ISC)2, reflected on the major data breaches of the year - RSA, Sony, Epsilon - and he wrote a blog entry about the lessons security professionals must learn from these incidents.
See Also: Live Webinar | How To Meet Your Zero Trust Goals Through Advanced Endpoint Strategies
"In virtually all of the breaches of 2011, there was a human error or failure that could have been avoided," Tipton wrote. "As IT people, we tend to focus more on the technology surrounding these compromises, but as I look more closely at each of them, I believe that humans are still at the heart of great security successes - and, unfortunately, great security breaches."
In an exclusive video interview recorded at RSA Conference 2012, Tipton expanded on this topic, discussing:
Advanced persistent threat - and why it isn't being taken seriously enough;
How security pros still aren't taking care of the little things that lead to big breaches;
What needs to be done to properly address application security.
Tipton is the Executive Director for (ISC)2, the largest not-for-profit membership body of certified information security professionals worldwide, with over 80,000 members in more than 135 countries.