Ukrainian Cops Arrest Phishing Gang That Stole $3.4 Million
Hundreds of Phishing Sites Used to Steal Money Under Guise of EU Payments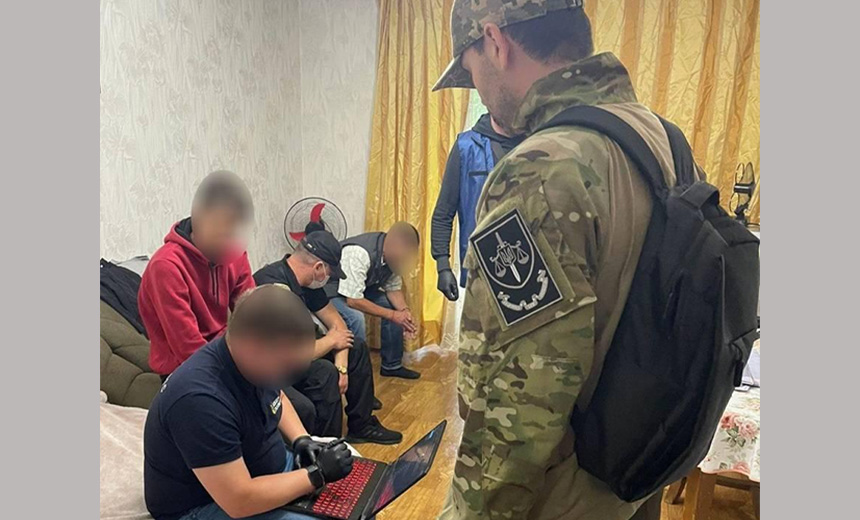 Ukrainian national police arrested members of a phishing gang that stole nearly $3.4 million by luring victims with a promise of social safety net payments from the European Union.
See Also: Live Webinar | How To Meet Your Zero Trust Goals Through Advanced Endpoint Strategies
A dedicated cybercrime unit within the Ministry of Internal Affairs operating with police based in central Kyiv and specialists from the National Bank of Ukraine worked to detain nine individuals.
Authorities accuse the gang of creating more than 400 websites such as help-compensation.xyz to obtain bank account information later used to strip funds from more than 5,000 individuals. Its members face up to 15 years in prison.
Raids recorded by police in multiple locations also resulted in the seizure of computer equipment, mobile phones, bank cards and cash.
The arrests come during a time of heightened risk for phishing attacks in Ukraine and across the globe due to Russia's ongoing invasion of Ukraine. Email security provider Tessian in April reported a surge in cybercriminal attempts to channel humanitarian concern about Ukraine into phishing-instigated fraud.
Ukrainian law enforcement and cybersecurity authorities earlier this month warned residents of a phishing campaign of emails purporting to originate from Kyiv police accusing recipients of criminal failure to pay taxes. The Security Service of Ukraine attributed the campaign to the Russian government.
This most recent set of arrests by the Ukrainian cybercrime unit is not the first time it's moved against domestic phishing gangs.
In February, police arrested five individuals charged with stealing credit card data from at least 70,000 people by using 40 separate phishing sites (see: 5 Held in Ukraine Over Phishing Scam With 70,000 Victims).
In January, authorities also arrested five individuals on suspicion of using ransomware to extort more than 50 companies across the United States and Europe (see: Ukraine Police Bust Ransomware Suspects Tied to 50 Attacks).