Cybercrime , Fraud Management & Cybercrime
Silk Road 2.0 Operator Sentenced to Prison
Authorities Say He Received Commission on Darknet Site's Sales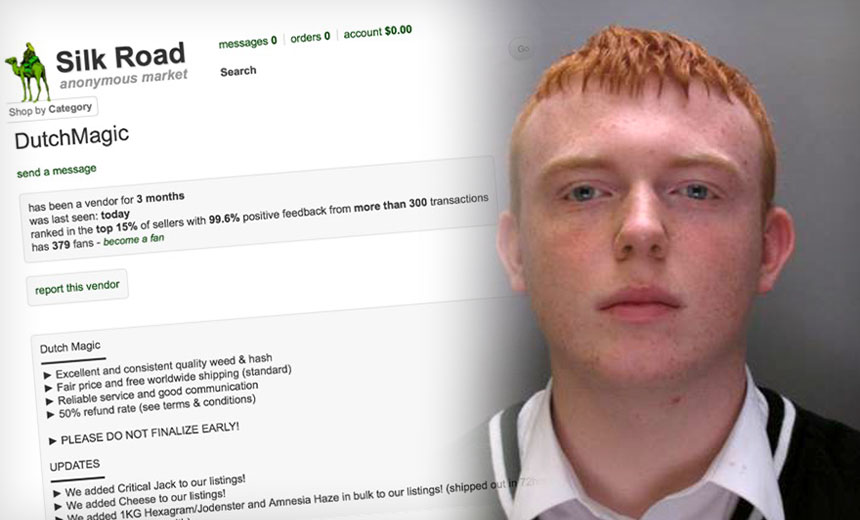 An unemployed British man has been sentenced to more than five years in prison for his role in operating the Silk Road 2.0 darknet site, which succeeded the original Silk Road website after the FBI closed it in 2013, the U.K.'s National Crime Agency says.
See Also: Live Webinar | How To Meet Your Zero Trust Goals Through Advanced Endpoint Strategies
Thomas White, 24, ran Silk Road 2.0 and took a slice of the profits from the sales of illegal drugs, weapons, stolen data, hacking tools and other goods that were traded on the darknet site, according to the National Crime Agency. The FBI and other law enforcement agencies shuttered the site in 2014 after it operated for about year.
White, who was arrested in 2017, pleaded guilty earlier this year to charges of drug trafficking, money laundering and possessing 464 category A indecent images of children. He was sentenced to five years and four months in prison on Friday, the National Crime Agency says.
While it's not clear how much White earned from his time operating Silk Road 2.0, U.K. law enforcement officials estimate that the site trafficked in about $96 million worth of goods, with White receiving a commission of 1 percent to 5 percent.
At one point, White paid £10,700 ($14,000) in cash for a down payment on an upscale apartment in Liverpool's city waterfront district despite not having a viable source of income, authorities say. He also possessed about 50 bitcoins worth about $250,000.
From Silk Road to Silk Road 2.0
A former accounting student at the Liverpool John Moores University in the U.K., and self-taught computer expert, White started as an administrator on the original Silk Road before the FBI closed the site during a raid, U.K. authorities say. A month later, he opened Silk Road 2.0, which featured many of the same services as the original.
White, who used aliases "St Evo" and "Dread Pirate Roberts" - not to be confused with Ross Ulbricht, the original "Dread Pirate Roberts," who is serving two double life sentences, plus 40 years, without the possibility of parole in federal prison in the U.S. - ran Silk Road 2.0 from November 2013 to March 2014, authorities say.
"White was a well-regarded member of the original Silk Road hierarchy," says Ian Glover from the National Crime Agency. "He used this to his advantage when the site was closed down. We believe he profited significantly from his crimes, which will now be subject to a proceeds of crime investigation."
In 2014, the FBI launched "Operation Onymous" that targeted and closed 410 hidden online services, including Silk Road 2.0, and seized $1 million in bitcoins as well as more than $220,000 in cash, drugs, gold and silver. In addition to the FBI, the raid included Europol's European Cybercrime Center, the U.S. Immigration and Customs Enforcement's Homeland Security Investigations agency and EU agency Eurojust, which handles judicial cooperation relating to criminal matters.
A number of other Silk Road 2.0 administrators were also arrested at the time of the raid, including Blake Benthall (aka "Defcon"), Gary Davis (aka "Libertas"), Andrew Jones (aka "Inigo") and Brian Farrell (aka "Dr Clu"). All were prosecuted and sentenced in the U.S., where the Silk Road 2.0 servers were located, authorities say.
Eventual Arrest and Conviction
White was also arrested in 2014, although he was not charged by British authorities until 2017, when he was rearrested by the investigators with the National Crime Agency who were continuing the investigation.
At the time, White appeared to have left the day-to-day operations of Silk Road 2.0 to others, authorities say.
Police eventually identified White through a package of illegal drugs that he purchased through Silk Road. Investigators found a laptop belonging to him that contained not only images of child pornography but also an online chat with Silk Road administrators wanting to set up a pedophiles' website to publish the images.
Additionally, police found hundreds of files on the laptop that contained stolen data, including information from the FBI and NASA, details from the investigation into the Ashley Madison website, a database from the U.S. Fraternal Order of the Police and customer details of U.K. broadband provider TalkTalk. It's not believed that White stole the data, the National Crime Agency says.