San Diego: City of Security Job Growth
Cyber Center of Excellence Formed to Help Boost Economy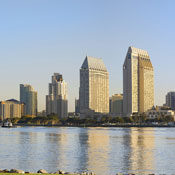 Information security professionals looking for new opportunities should consider San Diego, where jobs in the field could grow as much as 25 percent this year as a result of ongoing economic development efforts, according to a new report.
See Also: The Guide to Just-In-Time Privileged Access Management
A recently conducted economic impact study and industry assessment shows that San Diego is positioned to become a leader in the cybersecurity industry, supporting both economic growth and job creation.
The study, titled "Cybersecurity in San Diego: An Economic Impact and Industry Assessment," says that along with the 25 percent overall cybersecurity job growth, local companies that deal with cybersecurity exclusively expect employment to grow 13 percent over the next year.
The in-depth report completed by the National University System Institute for Policy Research, along with BW Research, Inc. and SANDAG Service Bureau, shows that the total economic impact of the cybersecurity industry in 2013 for San Diego was $1.5 billion. Also, in 2013 there were approximately 6,600 jobs tied directly to cybersecurity.
The study's author, Erik Bruvold, president of the National University System Institute for Policy Research, says there's a one-to-one multiplier with cybersecurity jobs, meaning "for every job in cybersecurity, there's another job indirectly or induced that's created in the region's economy. That's a total economic impact of about 13,000 jobs," he says.
What makes San Diego an important region for cybersecurity growth, Bruvold says, is the research and development on information security at area universities. Also, the region is home to the U.S. Navy Space and Naval Warfare Systems Command, which employs an estimated 3,100 cybersecurity professionals.
"We [also] have a pretty robust workforce pipeline that comes not only from the university, but often times firms involved in cyber are filling workforce needs for discharging military personnel," Bruvold says.
Cyber Center of Excellence
To help promote cybersecurity growth, local organizations recently launched the Cyber Center of Excellence, a public-private partnership. Member organizations supporting the center include, for example, Qualcomm, General Dynamics, Sony and FICO.
The center aims to:
Collaborate with the California Governor's Cyber Security Task Force to provide industry best practices for target sectors, including biotech, insurance, medical and retail;
Partner with San Diego's military community to help find veterans jobs in the cybersecurity workforce;
Work with academic institutions to foster the next generation of cybersecurity students.
The Cyber Center of Excellence's primary focus is education, says Holly Smithson, CEO. She's also director of enterprise practice at Sentek Global, a technology service provider for government and commercial organizations. "We want to showcase that as demand for cybersecurity continues to rise, thanks to media coverage of [breaches such as] Target and the California DMV exploitation, you're going to see a lot more people tap into cybersecurity products, offerings and solutions," she says.
Another driving force for the center is job growth, Smithson says.
"Now that we have a dedicated platform ... it gives us an opportunity to educate companies and increase their awareness [about cybersecurity]," she says. "By doing this, we can stimulate market demand for cybersecurity solutions, products and technologies. By stimulating market demand, you're going to usher in more companies that want to be close to the market and close to the customer. Talent and workforce will follow."
Bruvold says the center will further encourage industry collaboration. "These companies do compete for contracts and customers," he says. "But there are places they can cooperate in terms of skills, networking, knowledge creation and additional certification programs."
The goal is for cybersecurity to become San Diego's next big jobs generator, says Mark Cafferty, president and CEO of the San Diego Regional Economic Development Corp. "Like biotech was 30 years ago, cyber has the potential to be a driving force for growth in both our innovation and military economies."