SonicWALL Builds Next-Generation Enterprise Customer Base
SonicWALL Builds Next-Generation Enterprise Customer Base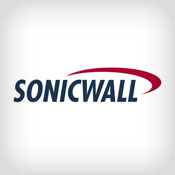 SonicWALL, Inc., the leading provider of intelligent network security and data protection solutions, announced that next-generation firewall (NGFW) adoption among its customer base is growing, particularly in retail and academic deployments. The growing threat environment coupled with the necessity of improved security with minimal latency has created increased demand for SonicWALL's high-performance network security solutions with application intelligence, control and visualization features.
SonicWALL security solutions have recently been deployed with the following customers:
Minntech Corporation:
"After a comprehensive evaluation against Fortinet, Minntech deployed the SonicWALL E-Class NSA E5500, Global Management System, SRA 4200 and NSA 3500 appliances," said Carl Gammon, director, information systems, Minntech Corporation. "Not only has performance been excellent, but it has also allowed us to eliminate five separate security point solutions and roll them into one unified package. The savings on support fees alone will give us an ROI of just over two years."
Minntech Corporation, a wholly-owned subsidiary of Cantel Medical Corp. (NYSE:CMN), is a leader in developing, manufacturing, and marketing medical devices, sterilants, and water purification products.
Hall County Schools:
"SuperMassive was our choice over competitors due to its flexible architecture, performance and scalability; its power," said C.J. Daab, technology support coordinator at Hall County Schools. "The fact that it has a 96-core processor and scales to the size of our district gives us confidence that we can grow well into the future."
Hall County Schools, a public school district in Georgia, leverages SonicWALL Appliance Intelligence, Control and Visualization for bandwidth management and prioritization of application traffic for VoIP, video conferencing and social media resources. The district employs 4,800 teachers and staff members and supports 26,000 students who attend 21 elementary schools, six middle schools and seven high schools.
Hall County deployed paired NSA E7500 appliances in High Availability (HA) mode at both its central office and its offsite data center. The NSA E7500 for large enterprise networks features Content Filtering, Gateway Anti-Virus, Anti-Spyware, Intrusion Prevention, and Application Intelligence, Control and Visualization.
Featuring a dynamic rating and caching architecture, the solution blocks noncompliant and dangerous web content and enforces the district's productivity and protection policies. In addition to content filtering and ease-of-management, the district sought robust monitoring and reporting, single sign-on (SSO) and CIPA compliance.
Aaron's:
Aaron's recently upgraded the firewalls in all of its retail stores to appliances. Deployable as Unified Threat Management firewalls or Next-Generation Firewalls, these TZ 210 devices offer flexible IPSec or SSL VPN connectivity, gateway anti-virus, anti-spyware, intrusion prevention, automated 3G or analog failover/failback as well as application intelligence, control and visualization.
"SonicWALL secures our network of 2,000 stores and helps us drive operational efficiencies," said Jason Tate, IT director, Aaron's. "SonicWALL gives us a great deal of flexibility that we end up needing due to our company's growth. It was a lynchpin move that has helped us keep costs down."
Aaron's (NYSE: AAN) secures store locations using E-Class NSA E6500 and E5500 pairs, GMS and the TZ Series, with application intelligence, control and visualization. With SonicWALL, Aaron's has achieved lower TCO, in addition to flexibility and higher service levels. Aaron's is the nation's leader in the sales and lease ownership and specialty retailing of residential and office furniture, consumer electronics, home appliances and accessories.
The deployment has saved the company over $500,000 monthly when comparing the connectivity fees on broadband to T1s. The solution made Aaron's enterprise network more secure. As a publicly traded company, Aaron's is obligated to comply with ETI (Ethical Trade Initiative) and PCI DSS (Payment Card Industry Data Security Standard) regulations. Other mission-critical application issues for the company include SQL replication and SIS data aggregation, or the ability for intranet traffic to hit reporting portals. Moreover, from an organizational standpoint, the company needed a solution that was easy and flexible to manage, as its associates use various learning management system (LMS) providers for internal training.
SonicWALL customers benefit from the industry-leading application intelligence, control and visualization solution that puts the power back in the hands of IT administrators with new levels of management and ease-of-use. With the tools available, IT managers are able to block or throttle application usage on a user or group level, and optimize bandwidth consumption, facilitating an increase in employee productivity. SonicWALL's enterprise-class customers benefit in particular from the patented Reassembly-Free Deep Packet Inspection (RFDPI) technology that enables increased security without network latency.
SonicWALL offers a massively scalable product line that meets the needs of the largest campus, retail and central site networks in the world. The SonicWALL SuperMassive E10000 Series of Next-Generation Firewalls delivers more than 40 Gbps of firewall throughput and over 30 Gbps of application control and intrusion prevention. SuperMassive has expanded SonicWALL's Next-Generation Firewall offerings for the enterprise and is an attractive choice for existing and future customers.
About SonicWALL, Inc.
Guided by its vision of Dynamic Security for the Global Network, SonicWALL develops advanced intelligent network security and data protection solutions that adapt as organizations evolve and as threats evolve. Trusted by small and large enterprises worldwide, SonicWALL solutions are designed to detect and control applications and protect networks from intrusions and malware attacks through award-winning hardware, software and virtual appliance-based solutions. For more information, visit http://www.sonicwall.com/.