Endpoint Security , Governance & Risk Management , Internet of Things Security
DOJ Blasts Apple on Lack of Encryption Backdoor - Again
Law Enforcement Leaders Say Encryption Delayed Terrorist Investigation; Apple Pushes Back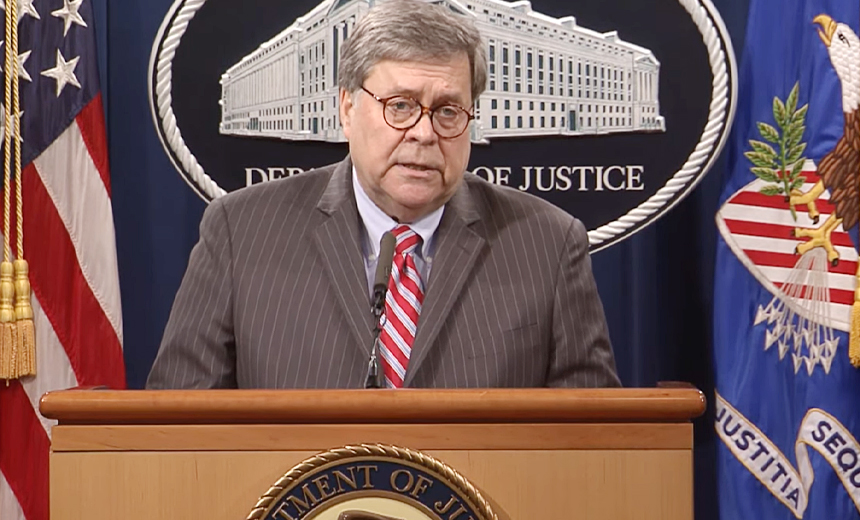 Although FBI technicians were able to gain access to data in two iPhones belonging to a Saudi national who killed three U.S. sailors at a Pensacola, Florida, military base in 2019, the Department of Justice continues to criticize Apple's refusal to offer law enforcement a backdoor to its encrypted devices. This hampered the investigation, costing investigators time and taxpayers money, DoJ argues.
See Also: Live Webinar | How To Meet Your Zero Trust Goals Through Advanced Endpoint Strategies
The Justice Department has criticized Apple on this issue before, but the company and consumer advocates have repeatedly argued that providing a backdoor would be irresponsible, citing broader privacy concerns.
On Monday, U.S. Attorney General William Barr and FBI Director Chris Wray announced that after unlocking the two iPhones belonging to Mohammed Saeed Alshamrani, investigators were able to obtain data connecting the shooter to the terrorist organization Al Qaeda in the Arabian Peninsula.
Barr and Wray also described how unlocking the iPhone data led to an investigation of one of Alshamrani's associates in Yemen.
Despite the fact that FBI technicians were able to crack into both iPhones and retrieve Alshamrani's data - even after he attempted to destroy both devices after the shooting - Barr and Wray each criticized Apple for what they say was a lack of cooperation with a terrorism investigation.
The two law enforcement leaders also took Apple to task for building encryption into its iPhones without providing law enforcement with a backdoor for investigations.
"I must also express my great disappointment that it took over four months and large sums of taxpayer dollars to obtain evidence that should be easily and quickly accessible with a court order," Barr said. "In cases like this, where the user is a terrorist, Apple's decision has dangerous consequences for public safety and national security and is, in my judgment, unacceptable."
Wray added that while some privacy protections are understandable, cases such as the Pensacola shooting should give tech companies such as Apple reason to cooperate with law enforcement.
"Apple made a business and marketing decision to design its phones in such a way that only the user can unlock the contents no matter the circumstances. Apple's desire to provide privacy for its customers is understandable, but not at all costs," Wray said.
Apple's Reaction
After the comments from the FBI leader and attorney general on Monday, Apple pushed back, saying the company had cooperated with investigators, but that it couldn't build backdoors into its devices just for law enforcement.
"It is because we take our responsibility to national security so seriously that we do not believe in the creation of a backdoor - one which will make every device vulnerable to bad actors who threaten our national security and the data security of our customers," according to Apple's statement provided to 9to5Mac.
"There is no such thing as a backdoor just for the good guys, and the American people do not have to choose between weakening encryption and effective investigations," Apple says.
Ongoing Dispute
On Dec. 6, 2019, Alshamrani, a lieutenant in the Saudi Royal Air Force who was training at Naval Air Station Pensacola, killed three people and injured eight others at the base. He was later shot and killed by police.
Following the attack, the FBI recovered two iPhones belonging to Alshamrani. One was an iPhone 7 with a fingerprint reader and the other was an iPhone 5, according to the New York Times. Federal prosecutors and FBI agents claimed to have faced difficulties in extracting information from the iPhones due to encryption, which led Barr to put pressure on Apple to unlock the smartphones (see: Attorney General Presses Apple to Unlock Shooter's iPhones).
President Donald Trump also tweeted at the time that Apple should do more to assist the FBI in investigations.
We are helping Apple all of the time on TRADE and so many other issues, and yet they refuse to unlock phones used by killers, drug dealers and other violent criminal elements. They will have to step up to the plate and help our great Country, NOW! MAKE AMERICA GREAT AGAIN.

— Donald J. Trump (@realDonaldTrump) January 14, 2020
Over the last year, Barr has repeatedly raised concerns about encryption in applications. In July 2019, for example, the attorney general said that what he described as "irresponsible encryption" in Facebook-owned WhatsApp was endangering public safety, and he said that providing backdoor access by law enforcement would cause minimal data security risks (see: Attorney General Barr Argues for Access to Encrypted Content).
Apple says that it doesn't store customers' passwords, making it impossible for the company to unlock a device from the information that it has.
"In data centers, we deploy strong hardware and software security protections to keep information safe and to ensure there are no backdoors into our systems," according to Apple's statement from Monday.
Some civil liberties groups also question why the Justice Department and the FBI put pressure on Apple to unlock the two iPhones even though FBI technicians were able to recover the data.
"Every time there's a traumatic event requiring investigation into digital devices, the Justice Department loudly claims that it needs backdoors to encryption, and then quietly announces it actually found a way to access information without threatening the security and privacy of the entire world," Brett Max Kaufman, a senior staff attorney at the American Civil Liberties Union, told the Wall Street Journal.
The boy who cried wolf has nothing on the agency that cried encryption. https://t.co/kzOOcNIZv1

— ACLU (@ACLU) May 18, 2020
Earlier Legal Stand-Off
The Justice Department and the FBI faced a similar legal stand-off in December 2015, when Apple declined to comply with a request to create a backdoor on the iPhone 5C owned by a shooter who killed 14 people in San Bernardino, California.
A federal judge eventually issued an order compelling Apple to help bypass the encryption on the iPhone seized by the FBI (see: Apple Blasts Judge's iPhone Backdoor Order). The FBI, however, dropped its legal action against Apple after it turned to a third-party vendor to bypass the encryption on the gunman's iPhone.