DHS Fills Senior Cybersecurity Post
Rosemary Wenchel to Coordinate IT Security Initiatives with DoD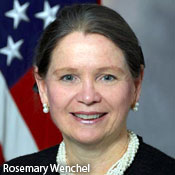 A seasoned information operations director at the Defense Department, Rosemary Wenchel, is the new deputy assistant secretary for cybersecurity coordination in the Department of Homeland Security's National Protection and Programs Directorate.
See Also: The Guide to Just-In-Time Privileged Access Management
Wenchel replaces Navy Adm. Michael Brown, who retired in January, and will coordinate joint cybersecurity initiatives among DHS, DoD and the National Security Agency while overseeing operations at the DHS-DoD Joint Coordination Element located at Fort Meade, Md., where NSA and the military cyber command are headquartered. A DHS spokeswoman also says Wenchel will work with DHS's Science and Technology Directorate to ensure the department's cybersecurity research and development efforts are coordinated with policy and operations.
Wenchel had been serving for the past 4/12 years as director of cyber for information operations and strategic studies in the Office of the Secretary of Defense, where she oversaw departmental activities concerning policy development, guidance and oversight of information operations.
She joined the Office of the Secretary of Defense staff in 2006 as the senior adviser for information operations and strategic studies, where she served as the principal technical expert for complex information operations and classified technology integrating activities for military departments, combatant commands and intelligence agencies.
She began her professional career in 1989 as a computer systems programmer for the Naval Security Group, and had risen through the ranks at DoD until her DHS appointment.
At DHS, Wenchel reports to Deputy Undersecretary for Cybersecurity Mark Weatherford [see Building DHS's All-Star Cybersecurity Team].