Cybersecurity for the C-Suite
CMU Launches Executive Master's in Information Assurance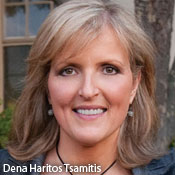 Carnegie Mellon University announces a new Executive Master of Science in Information Assurance (ExecMSIA) program beginning in fall 2012 for current and aspiring C-level executives in IT security.
See Also: Live Webinar | Breaking Down Security Challenges so Your Day Doesn't Start at 3pm
"This is an interdisciplinary program, exclusively designed for mid-to-senior professionals holding or aspiring for leadership positions," says Dena Haritos Tsamitis, director of education, training and outreach for Carnegie Mellon's CyLab. "This is an opportunity for them to learn from experience and expertise of 20 or so peers who are all seasoned practitioners in their field."
This degree program is structured for full-time working practitioners and follows a low residency model, which means over an entire 20-month period of five semesters, the program requires just 24 days of residency at the school.
CMU, based in Pittsburgh, Penn., is a recognized national center of academic excellence in information assurance education.
Focus on Forensics, Resilience
The ExecMSIA offers a concentration in cyber forensics and incident response, or resilience management. Students can specialize in one or the other. An option is also available for non-degree students to pursue certificates in these two areas.

The cyber forensics and incident response ExecMSIA offers technical executives with the knowledge, skills sets and experiences to successfully plan for and manage the inevitabilities of cyber attack. This concentration is ideally suited for experienced technical professionals currently in or pursuing leadership roles, such as chief technical officer, chief security officer and chief information security officer.

Resilience management explores how effective risk management translates into the emerging properties of operational resiliency. This essentially brings business continuity and risk management into a converging framework and is geared toward aspiring professionals in leadership roles, such as chief compliance officer, chief operations officer and chief information officer.

Students do not need to have an existing background in forensics, incident response or business continuity to specialize in these areas. The program however, requires a minimum of five years professional working experience within the IT or IT security field.
Program Overview
The program is structured to run 20 months, made up of five semesters. In each semester, students take 24 units made up of two core courses during the first semester, and a combination of core and concentration courses in the remaining semesters.
Training is delivered in an executive format that combines online sessions with periodic, short campus sessions. This includes laboratory exercises, mock hearings, group meetings, case study discussions, presentations and problem-driven scenarios.
"It is not like sitting in a lecture hall with 500 other students," Tsamitis says. "Students get a comprehensive grasp, applied knowledge and hands-on understanding of concepts, as opposed to high-level overview on these areas."
The faculty includes senior members from CyLab, Temple University of Business, Software Engineering Institute and The Computer Emergency Response Team.
"This program is tailored to meet the specific needs of senior-level folks who make strategic decisions within their organizations." Tsamitis says. "This is a journey for them to explore, apply and integrate the learning in business and technical aspects into their work environments."
International candidates are eligible to apply. The program application deadlines are April 30, 2012 (first round) and June 30, 2012 (second round). For details on how to apply visit: The ExecMSIA page.
Carnegie Mellon University also offers IT security practitioners with a master's degree in information security technology and management, as well as other information technology undergraduate and graduate programs that focus on mobility, information security and software management.
The ExecMSIA offered by Carnegie Mellon University is a program resulting from extensive market research and inquiries from senior-level practitioners who are looking to pursue a practical degree to be better prepared in facing today's fast-paced technological and business challenges.
"This is a truly unique program that fits the specific needs for upcoming and current IT security leaders and adds high enrichment to peer support and the learning experience," Tsamitis says.