Top 10 Screening Trends
What You Need to Know Before Conducting Background Checks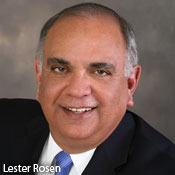 Criminal background checks for prospective employees - smart move, or discriminatory practice? Attorney Lester Rosen answers this question and details 2012's top 10 trends in background checks.
Heading the list of trends this year is this question about the use of criminal background checks. In the U.S., the Equal Employment Opportunity Commission has given the issue extra scrutiny, and Rosen expects some action in 2012.
Related Content
"Many observers expect the EEOC this year will announce a test, or at least a more refined test, for the use of criminal records ... or perhaps even some refinement of the rules surrounding credit reports, which has been another hot topic," says Rosen, founder of Employment Screening Resources, a background screening firm.
Among the other key trends to watch in 2012: The use of social media and automation in background screening, as well as the eruptions of fake degrees and false credentials.
Another top trend is an increase in lawsuits, Rosen says. "There's increased litigation in the area of negligent hiring - accusing an employer of not exercising reasonable care," he says. "The flip side of the coin is that employers also face lawsuits, including a marked increase in class action lawsuits, for not doing background checks properly."
In an exclusive interview about ESR's latest Top 10 Trends report, Rosen discusses:
The latest social media screening trends;
The importance of self-checks;
How organizations can screen more effectively.
Rosen, a retired attorney, founded ESR in 1996. In 2003, that firm was rated as the top screening firm in the US in the first independent study of the industry in research report prepared by the Intellectual Capital Group, a division of HR.com. He is a consultant, writer and frequent presenter nationwide on pre-employment screening and safe hiring issues. His speaking appearances have included numerous national and statewide conferences. He has qualified and testified in the California, Florida and Arkansas Superior Court as an employment screening expert on issues surrounding safe hiring and due diligence. He is the author of The Safe Hiring Manual-The Complete Guide to Keeping Criminals, Imposters and Terrorists out of the Workplace." He is also the key presenter in the webinar Avoid Negligent Hiring - Best Practices and Legal Compliance in Background Checks
ARTICLE
Lenovo Website Hijacked
The hacking group Lizard Squad has claimed credit for hijacking the website of Lenovo.com and...
Latest Tweets and Mentions
ARTICLE
Lenovo Website Hijacked
The hacking group Lizard Squad has claimed credit for hijacking the website of Lenovo.com and...